All right. I love Bowman. Always have and probably always will. To me, they are the most consistent product in terms of quality and collectability. So, therefore, they will always be tops in my book.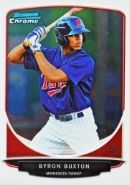 I had a few bucks, so I went down to Sports Treasures LLC (our LCS) and picked up a few packs of the new Bowman. No, I didn't hit any big names or autos or whatnot. What I did find was a very nice looking product, great photos, and a huge set for the collectors in this world. Like I said before, Bowman is nothing but consistent.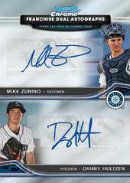 The first thing you notice about any release of Bowman is the abundance of parallel cards. There's orange and red and blue and purple and refractors....the list goes on. But, to me, that's part of the appeal of the Bowman line. I collect Rays players. I would love to have every single variety of David Price card available, in every color, even though he's injured and was pitching like shit. But, that variety is cool, and extremely profitable.
The base set isn't very large, 220 cards. But, once you factor in the Chrome cards they insert into every pack and all the parallels, well the set can start looking kind of large. In a nod to the set collectors in the world, Bowman puts a fairly generous eight cards into every normal (not jumbo) pack. Eight cards is a lot in a pack these days, sadly. So, the set folks will likely be scooping this stuff up.
The autographed subsets look pretty normal for Bowman. Lots of prospect autos. So, at least at this time, you can't be sure that what you hit will be worth anything. This makes the set good for long-term collectors and pretty poor for flippers. Looking on eBay, it looks like Byron Buxton might be the wunderkind for the season. But, there are autos from Manny Machado, Mike Olt, Profar, and Danny Hultzen, which should add some excitement to cracking packs and boxes.
One new bit: Bowman is throwing mini-cards in to this years product. I can't remember them doing this before and I am a big fan of mini cards. So, that's cool.
Anyway, that's Bowman in a nutshell. Check out the
sportscardradio
site for more details. They rock.
My "hits" from the three packs: Barry Zito orange (#'d to 250), a Sam Selman refractor, and a Nolan Arenado mini.