Ah, I remember the good old days. Pinnacle was always a nice little addition to the Topps and Upper Deck's of the world. Slightly funky. A little bit futuristic (by early 90's standards). I never though about seriously collecting Pinnacle, but they sure were fun to buy every once in a while.
Then...they disappeared.
So, when I walk into the LCS looking for something totally different, I see that brand. Pinnacle is back, baby!
Here's the basic lowdown: A 150 card basic checklist along with another 50 rookies, totally a 200 card easily do-able set for collectors. Tons of inserts. The autograph signers are surprisingly impressive: Trout, Griffey Jr, Mattingly, Strasburg, and Hamilton...plus others. Not bad, I must say. Looks like they are bringing back the old clear cards, too. Harkens back to the good old days...
Overall, the product isn't bad. It's not really all that good, either. Use it how I use it: a fun little side trip down memory lane. If you are looking for something great and collectible...well, I would look elsewhere.
I bought four packs. Here's how I did:
Pack 1:
M. Cabrera, Carlos Pena, Strasburg,
Scott Diamond Auto
, Prince Fielder "Swing for the fences" (clear), Jose Reyes, Jackie Bradley Jr RC, Collin McHugh RC
Pack 2:
Bo Jackson, J. Upton, E. Andrus, Mauer, Michael Morse Clear Vision "single", D. Wright, Grant Balfour, Nick Maronde RC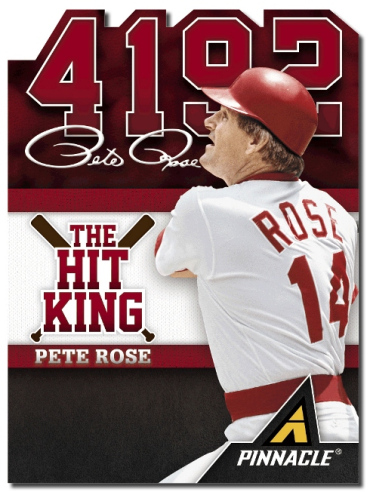 Pack 3:
J. Montero, Kimbrel, Y. Alonso, Pete Rose Hit King, Teixeira Clear Vision "single", Huston Street, Brett Lawrie,
Yasiel Puig RC
Pack 4:
Prince Fielder, BJ Upton, CarGo, Mat Harvey, Jeter clear looking Pinnacle of Success, Nolan Ryan, Tyler Skaggs RC, Denis Phipps RC
For four packs, I am certainly not disappointed. An autograph and a Puig RC are all good for me. The design is simple and there are no MLB logos, so be ready for that.
Pinnacle. Back in the neighborhood, once again.