So, this would be my third and last box of 2013 Topps that I have opened. After three boxes, I have netted a grand total of ZERO autographs. Oh well, the boxes are fun to open and it'll give me some singles that I can send for some TTM love.
Here's the rundown on what I got the last box: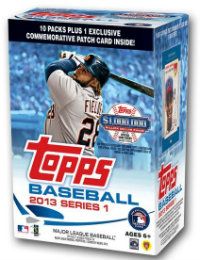 Harper and Trout - 1 Harper, 2 Trout
Tons of Emerald
A few gold serial numbered - No one special in that.
Starlin Castro GU - This one was kind of cool because it was clearly part of his uniform pants and there was still dirt on the fabric. I dig it when they are not washed.
Mike Schmidt GU "The Greats" - This is serial numbered to 25. I think it's a pretty good hit. I'll likely trade it or sell it on the Bay since I am not really a Schmidt guy.
A clutch of mini's
And a David Price die-cut...which is awesome because I am such a Price nerd.
Anyway, that's the break. Nothing much to report but at least I didn't get violated or reamed by Topps on this box.
Take care everyone!