So, the grandaddy of them all, Topps, has thrown out their offering for the upcoming season. I actually like the fact that they release their Series 1 BEFORE the season. I'm not sure why I like that...but, I do.
The cards, for a change, are mostly white...which, surprisingly looks fairly clean and neat. This is an upgrade from the years when there would be a black card that would chip or mar very easily. Here's a sample of a base card...Buster Posey.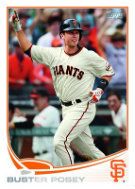 Posey Base Card
Not bad, right? Oh the inserts. As usual, Topps 2013 will be shit for inserts. Hell, Topps is almost always shit for inserts. Of course there are your usual autographed, relic, and numbered parallel cards. But, it looks like Topps is throwing in a silk parallel set, an "out of bounds" parallel (with players going out of bounds in the field of play), and some different colored parallel cards...including pink. Here's a little sampling of the inserts shown on the Topps site.
Pink
Emerald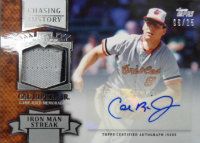 Sick Cal
Anyway, it looks like there will be a little something for everyone in the new Topps Baseball 2013. Lots of parallels. Very few autographs. Over use of relic cards.
New Topps. Enjoy.
*Edit: I just went through the Hobby Box I bought yesterday and there is actually more to like in this set than I initially anticipated. I got a bunch of minis (including a Harper), a couple of out of bounds, a pink, a few gold, a stack of emerald, and some others. No huge hits but the overall value looks like it will be pretty decent. So, any initial snarkiness has been revoked.