It seems like the only things I review around here are Panini and Topps. I guess that can be attributed to the fact that both still have product lines that are somewhat affordable. This is something that cardmakers have forgotten...or willingly ignored. People, especially in times of economic turmoil, have less money. However, in recent years card companies have put out more and more hundred-dollar-a-box (or pack!) high end bullshit that I cannot justify spending. I guess I'm not a
true
collector.
Anyway, went to the LCS to talk with the guy about scaling my collection back to just Hall of Famers and present/former Tampa Bay Rays players. Gotta make room, you know. So, I walk out with a couple of Rays autographed singles (Alex Cobb, Jake Odorizzi, Heath Bell) and two packs of 2013 Panini Prizm Perennial Draft Picks. Opened 'em up: no autos, one blue, and a whole stack of guys I haven't heard of yet. That's the thing with draft pick cards...you don't always know what you got!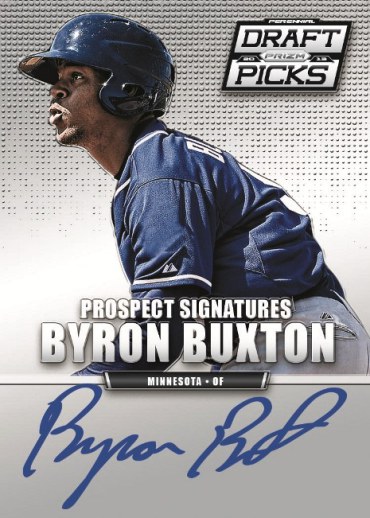 Here's a little breakdown about the set: The boxes retail for 79 bucks a box, 20 packs in a box, six cards in a pack. That, in itself, is not too bad. Each box also guarantees Four autographs, Six parallels, and Three inserts. Very not bad, at all.
The cards themselves are run-of-the-mill Prizm. Nothing spectacular but really not too off-putting, either.
For the price, I would definitely recommend the Panini Prizm Perennial Draft Picks line. It's economical AND you may actually get a little bit of a value from your purchase. Now, who knows...in six or seven years are these cards going to hold up value-wise? That really cannot be determined by a low-level goofball like myself. We will just have to wait and see!
Head on over to
Cardboard Connection
for a checklist of the Panini.
Oh yeah...my two packs had twelve cards. They were (in no particular order): Vincent Vasquez, Adalberto Mondesi, Ryan Boldt (Prizm), Eugenio Suarez, Brian Navarreto, Luis Torrens, Chance Sisco, Orlando Castro, Jonathan Denney (Blue #'d to 75), Carter Hope, Garin Cecchini, Ryan Boldt.