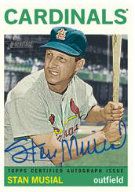 Killer Stan
Well, well, well...it looks like Topps Heritage was released without me looking. I'm actually quite happy with the release of Heritage. I've been very happy with buying the Heritage brand for a while now (both Major and Minor league) and will likely be picking up a box sometime soon. Surely, I will let you all know what comes out of the box when I get it.
Anyway, the Heritage for this year looks pretty loaded. Tons of inserts and autos. The design is based on the 1964 Topps set, which, to me, is one of the classics. A very nice choice from Topps, in my opinion.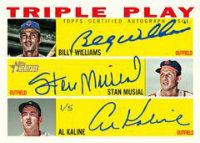 Amazing
The only real downside to Heritage, and this has always been a downside, is that the hobby boxes only have either an autograph or a relic. The big word there is OR. With my luck, I'll buy three boxes and come away with three shitty relics. Like an Angel Pagan, or a Braden Looper (does he still play?)...you get the picture. My luck in product without a guaranteed autograph is pretty dismal.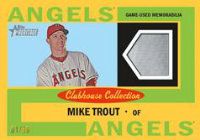 Sample Relic
The set design looks like it would be fantastic for in-person or through the mail autographing. Like other Heritage sets, the cards would need absolutely no prepping for the autograph, whatsoever. This is a nice little upside to the set.
1964 Mint
Set builders might be a little put off. Each box contains roughly 200 cards. The set itself is just shy of 500. Therefore, if my math is correct, it would take three boxes and very few duplicates to put one set together. This, as most of you know, never (EVER) happens. Hopefully, the collation of the cards is pretty good. Most likely, it won't be. So, set builders may be a little pissed.
2013 Topps Heritage looks pretty good to me. But, I'm biased because I am a fan. If you want to see the checklist head on over to our friends at
sportscardradio
and check it out.