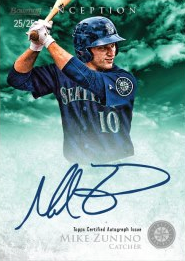 Well, it looks like Bowman is going to throw yet another product out into the already-crowded market starting this year. The product is going to be called Inception. Apparently, the cards will be only rookies and minor leaguers that fans can hope to "be there at the beginning", or inception, of their careers. A few years ago I would have loved this product. It looks pretty cool and back then I was a bit more into prospecting than I am now. Inception looks to be a loaded set for those prospectors.
Each player will have many (at least 8) parallel autographs. Here's what I understand...every prospect will sign a bunch of cards. The breakdown kind of looks like this:
Gold Auto /99
Blue Auto /75
Orange Auto /50
Green Auto /25
Red Auto /10
Purple Auto /5
Inception and Framed Printing Plates 1/1's
There's also going to be some dual autographs, a bunch of relics (boo, relics are beat!), auto-relic cards, patch cards, and more. To me, this seems like it's gonna be a pretty good box for the prospector. Lots of hits will equal pretty expensive, though. So, beware on that front and save your pennies.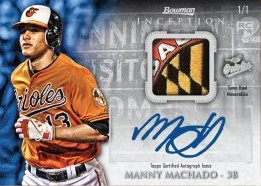 This card is pretty bad ass, I admit.
I got lots of this information from the guys at
Cardboard Connection
, who do a great job with reporting on the hobby. Show 'em some love and visit their site.