Who doesn't love the National Baseball Hall of Fame? I do. It's friggin' beautiful. It's kind of like a Mecca for baseball nerds. The city where the Hall is located...Cooperstown...well, that's just somewhere I could live happily.
But, Panini Cooperstown? This sucks. Hard.
Let's take a look see. A one hundred card set. Each pack holds five cards and a little disc thing in it. Therefore, a set collector one need to buy twenty packs (with zero duplicates) for four bucks a piece including tax to complete a set. It can be done. But...jeez.
The 2013 Panini Cooperstown has the lamest insert variations I have ever seen in a card set. Let's start with the color variations.
Green Crystal Shard 1:4 packs
Blue Crystal Shard 1:8 packs
Red Crystal Shard 1:12 packs
Gold Crystal Shard 1 per box
Black Crystal Shard 1/1
Dark Crystal Shard 1:1 billion packs
Dark Crystal...NOT actually in this set.
That's pretty much it for SP's. They aren't even that cool looking. I expected something called a Green Crystal Shard to look really friggin' cool. But, the Robin Young GCS I pulled was just humdrum.
This set is a dud. Each box comes with one HOF autograph. However, there are no cut autos or anything that I could find. So, there will be no autos of Dimaggio, Williams, etc... Nope. Your chances of getting a Gaylord Perry are pretty high, though. Not that there's anything wrong with Gaylord. But, just understand the "hits" are limited. Here's a
checklist
so you can see what you are getting into here.
I do, however, kind of like the chip disk cards. Those are different...sort of. I believe in the early 2000s, one Fleer set decided to revive the disc card and it only lasted for one set. But, I liked it then and I kind of like it now. So, there ya go. There's your silver lining in this box of poop.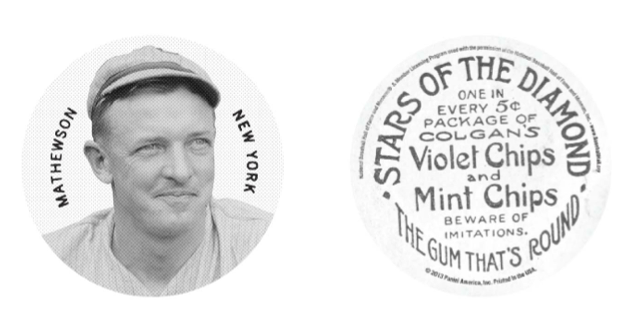 I did buy two packs because I needed to see it for myself. There was nothing worth mentioning in the packs...except for the Yount Green Crystal Skull...err...shard.
Don't buy it. Save the dough. If you must buy something, make it A&G.