I just have a lingering question: Why, in the world of sports memorabilia, doesn't Cardinals Hall of Fame shortstop Ozzie Smith get more love?
While he was playing, "The Wizard" was easily the best defensive shortstop to play the game. Heck, he may have been the best ever. Some would say, "Defense isn't enough". Have you never watched a YouTube video of the guy? All over the place, acrobatic, made the routine plays as well as the tough plays...Ozzie was a defensive animal.
Offensively, Smith was no slouch, either. He ended his career with over 2,400 hits and almost 600 stolen bases. In an era where shortstops were not expected to hit, not even a little bit, Ozzie was a titan with the bat.
The Hall of Fame voters knew Ozzie Smith was worthy when they voted him (on the first ballot, mind you) to their class of 2002. The induction was memorable and well-deserved. Smith was a class act on the field and off.
So, why don't collectors give him the love he deserves? Right now, I could go on the bay and find a certified auto of Smith for roughly $25. That's insane. This was a man that defined his position in the era in which he played. For those who collect signed baseballs...well, you can find a SS certified ball of Smith for between $75-100. Crazy good prices.
My only thought is that his prices are low because Ozzie is a good signer. Seems like he signs all the time for just about every company and you can find certified autos in multitudinous sets.
I just think we need to show Ozzie some love. Tony Gwynn, too. But, Gwynn is another story for another time...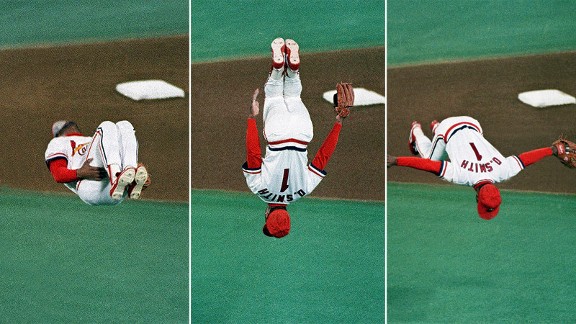 Iconic
Check out
ozziesmith.com
if you get a chance. He has a decent web-site.